We're finishing up our month-long study of the beautiful names of God… for now.
I can't help but think I'll want to revisit this topic in the future.
We've covered El Roi, the God who sees us,
Jehovah Rapha, the Lord who heals us,
Yahweh Yireh, the God who provides,
and we are wrapping up this week with Yahweh.
Yahweh.
It's a name probably many of us already know, so it seems kind of silly to end on a well known name.
However, that's just where my heart is today.
The name Yahweh comes from the name YHWH, a Tetragrammaton (bonus points for using a big word!) for God's most holy covenant name.
There's lots of scholarly debate about Yahweh (thinks like the spelling, pronunciation, and it's evolution to other names, such as Jehovah) but I don't want to talk about any of that today.
We're keepin' it simple, y'all.
Today I just want to bask in His beautiful name.
The first time we see YHWH revealed is in Exodus.
Moses had been given a huge task: be the spokesman for God's people and demand Pharaoh let Gods people go.
(Anyone else just get a Charlton Heston flashback?)
Moses felt incapable, insecure, and full of doubt and worry.
Anyone been there?
I love what God told him in the midst of all his anxiety and "what if" scenarios.
He revealed himself as YHWH, Yahweh.
The I AM.
The One who's always been, and always will be.
The One above all others.
He had never revealed this name to anyone before Moses.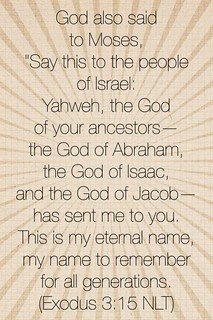 Not only did he share this intimate moment with Moses, but he also reassured him- I will be with you, I will be the one speaking- not you.
It wasn't about Moses. It was about God. It was about God working in a meek, tongue-tied man to do a mighty work.
I think there's a huge lesson here.
He is Yahweh. He is sovereign and he desires to use His people to bring Him glory.
Sometimes circumstances happen in our lives, or God asks us to do something completely out of our element, and sometimes these things make no sense at the time.
I have to keep reminding myself, He is the I AM.
I am the I AM Not.
There are things going on in my life right now that are leaving my head spinning.
I feel so confused and betrayed, and don't understand which way is up.
I acted on things out of obedience to Christ, yet things are going wrong. Nothing like they were supposed to.
This is when I must remember He is the I AM.
He is and always has been and he knows and holds the future in his hands.
His ways are not my ways, and his thoughts are not my thoughts.
They're much higher, not even in the universe of mine.
He has a bird's eye view, and I only have what feels like a teeny keyhole to peek though.
I don't know why things turn out the way they do.
I don't know why people do things that are completely the opposite of what we expect.
But I know He is the I AM.
I know I don't have all the answers to fully understand everything, but He does.
I know in my obedience, even when I don't fully understand, he does.
He is Yahweh, and he is trustworthy.